Point of Sale Hardware
We pair awesome software with exceptional hardware.
POS.com has partnered with the best software and hardware providers to enable a seamless integration with your business. Whatever your industry, we design the perfect package so you can focus on growing your business.
Hardware that seamlessly blends with software, instead of getting in the way of things.
Built and curated for your specific business needs, and backed by our industry-leading support.
To improve your day-to-day operations and fuel your growth, you need POS software that's versatile, intuitive, and that has robust features. In the same way, you deserve POS equipment that's tailored to your business, integrates smoothly into your existing software, and works seamlessly with any other point of sale systems that you're currently using.
Whether you need grocery store POS or for any other kind of business, POS.com offers the ideal solution. We partner with top software and hardware providers to provide a combination of the best of both worlds, the leading software, designed & built for your business, complemented with the optimal point of sale hardware that works seamlessly for your retail store, restaurant or salon.
With advancements in technology in both hardware and software, POS systems can do so much more than just tender sales. Accurately manage inventory, gain full insight into your business through extensive sales reports, run strategic sales & promotions, manage multiple locations & sales channels, and efficiently manage your staff, all through one centralized solution. Furthermore, you can integrate and sync between many of the existing business software.
Our solutions are compatible with a wide array of hardware ranging from digital scales, mobile phones & tablets, wireless barcode scanners, smart all-in-one payment terminals, and more. And it's fully backed by POS.com's advanced warranty exchange, various upgrade options, and technical support.
Below are just a few of our standard options. Our team is standing by however, to work with you to configure the best combination and quantities of hardware, software, and services to meet your requirements. Contact us for more information, including pricing on the bundles featured below, or to configure your own.

Need Payment Processing and Premium Tech Support? Get the POS system on us
If you're looking for an entire point of sale + payment processing solution, we offer an all-inclusive POS solution package: software, hardware, and everything to help you get started for free when you sign up for a minimum of three (3) years of premium tech support and payment processing with competitive rates by POS.com.
Premium tech support starts at $49.99 per month and includes priority remote & local on-site support within more than 50+ cities nationwide.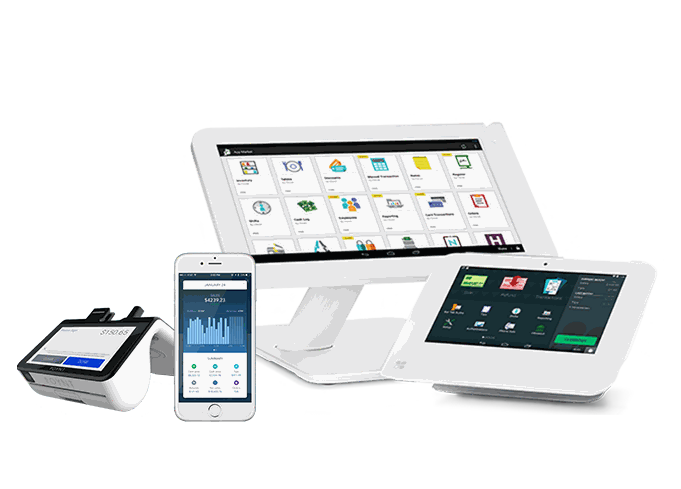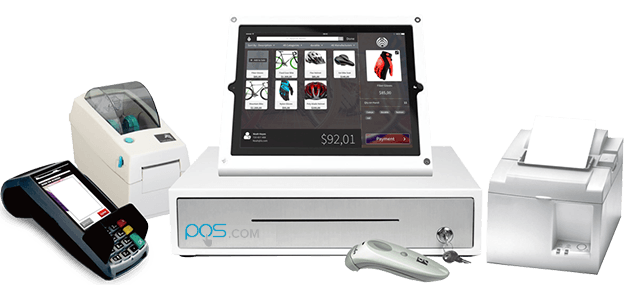 iPad Point of Sale Solution Bundle
Cloud based Retail or Restaurant Software options

iPad included, or use your own

Wireless credit/debit/EMV and gift card terminal

Rugged standard size cash drawer

Thermal receipt printer

Fast, easy to load label printer

Bluetooth, portable cordless scanner

Personalized on-boarding, configuration, setup and onsite installation available

24x7 premium support services available
Desktop Point of Sale Bundle
Retail or Restaurant POS Software

Rugged standard size cash drawer

Thermal receipt printer

Standard barcode scanner

Installation and training package including configuration, setup and onsite support available

24x7 software and hardware support service available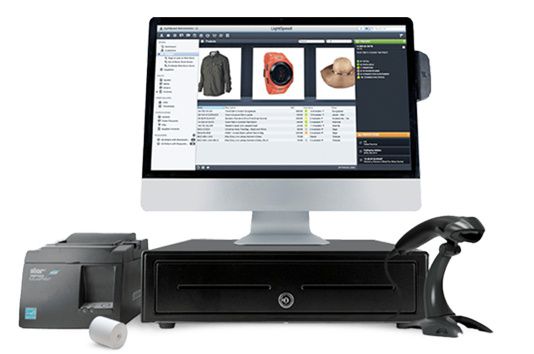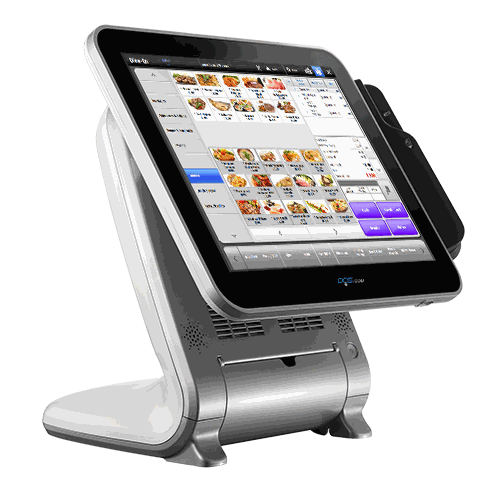 All in One Point of Sale Terminal
Retail or Restaurant POS Software

Sleekly designed touchscreen with LCD Display

Top performance processing power with an intuitive, resistive touchscreen available in a variety of back cover colors

On-board UPS 'smart battery' technology for continued operation to save critical data in case of power failure

Integrated customer display available

Cash drawer, printer, and alternate peripherals available

Setup, installation, and onsite implementation as well as training packages available

24x7 local support available in over 50+ cities
Looking for a more customized solution?
Answer a few simple questions and we will find the perfect POS system for your business
or call us toll-free at
+1 888-860-8988