Free* POS System
Complete Point of Sale Solutions for the Budget Conscious and it is backed by POS.com's Industry Leading Local Support in more than 50+ Cities Nationwide
Why settle for a POS system that may or may not meet your business needs due to budget constraints? We offer fully customized POS solutions for your retail, restaurant and salon business.
Who says good things can't be free? POS.com brings you a point of sale solution that just simply works with your business.
Looking for a point of sale solution for your business but on a budget? Don't settle for a system that may hinder your business just for affordability sake. Don't settle for cheap point of sale solutions without knowing how well it'll integrate into your business. By the time you realize, you may already have negatively impacted your business. At POS.com, we aim to provide businesses a way to run their operations efficiently, seamlessly and effortlessly - no matter the budget.
You deserve better. Your business deserves a POS system that grows with you and takes advantage of the countless opportunities that can help increase sales, customer loyalty, and your presence in the market. We curate the best combination of POS hardware and software based on your needs, not your budget.

All of our Free* POS Solutions include:
Customer Focused Support (remote + on-site)

POS Station + Receipt Printer + Credit Card Terminal

Point of Sale Software Suitable for your Business

Always available data on the Cloud

Payment Processing - Accept all forms of payments

Seamless inventory + staff management

Third Party Software Integrations Available

Setup, Installation, and Premium Support

POS.com's Satisfaction Guarantee
We offer an all-inclusive POS solution package: software, hardware, and everything to help you get started for free when you sign up for a minimum of three (3) years of premium tech support and payment processing with competitive rates by POS.com.

Premium tech support starts at $49.99 per month and includes priority remote & local on-site support within more than 50+ cities nationwide.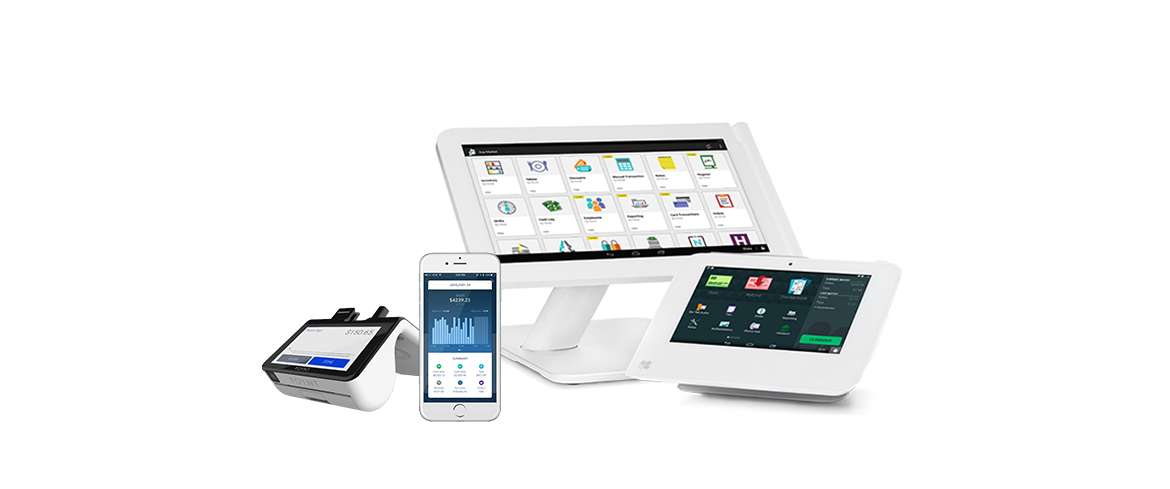 What does my Free* POS System include?
Fully featured Point of Sale solution for your business
Customer focused support (remote + on-site)
Never worry about your system being down and stalling your business. Your POS system is the central brains of your business operations and it can result in lost sales, or poor customer experience when it's not running at maximum efficiency. Our industry leading remote & on-site support provides you with the assurance you need so you can focus on growing your business. We offer local on-site support for 50+ cities nationwide, and provide expedited hardware replacements so you're always up and running.
Convenience of the cloud
View your sales data and manage your inventory from anywhere and at any time. Cloud based POS provides an always available management of your day-to-day activities. And everything is secured via industry leading encryption protocols. Even when your internet is down, your system will operate normally and sync when your internet comes back online. Always stay on top of your business, from wherever and whenever.
Accept all forms of payments
Accommodate to your customers' choice of payment methods. Accept all major credit cards, debit cards, gift cards, customer loyalty/membership cards, and mobile payments including Google Pay and Apple Pay. All payment is processed securely and quickly via the all-in-one Poynt terminal.
Track cash
Even with ever increasing credit card payments, don't neglect your cash paying customers. Always have enough cash on hand, and track exactly where it goes.
Get fancy and utilize digital receipts
Send digital receipts to your customers via email or text message. Living in the age of the internet and mobile devices, providing such an option will be appreciated by your customers. Moreover, you now have access to their email address which you can use to send special marketing emails, coupons, and other promotional materials.
Easily integrate with additional devices
Simplify your inventory tracking and easily enter your products into the system without needing to be next to the POS station using a wireless handheld barcode scanner. Accurately weigh items and automatically have it entered into the sales transaction with an electronic scale. Set up additional displays to promote products, show off discounts, and provide other marketing materials to your customers. Add devices as needed as your business grows.
Offer discounts and build customer loyalty
Customers love personalized experiences. Offering promotions specifically tailored to your customers by offering discounts on the items they want will guarantee customer loyalty. Making use of the comprehensive reporting tools, you can gain insights on valuable information which you can implement to increase sales with targeted demographics. With the magic of technology, and information from your POS system, this is totally possible.
POS station + Receipt printer + Credit Card Terminal
Every POS solution package comes with everything you need to start selling right away. It includes the POS station with a display, a thermal receipt printer and a payment processing terminal. Reliable hardware that performs, and software that simply works for your business. Manage inventory, process sales, access detailed reports, and process payments.
Track sales & view detailed reports from any device
You don't have to be in your store to view and manage your business. With the power of cloud, you can view and manage your system from any device, 24/7. Have a quick glance at your sales while you're away, or leverage detailed reports to forecast future sales and generate marketing strategies. All big brands rely on data to increase sales, raise brand awareness, and improve customer experience. Be like the pros and make data work for you.
Manage employee roles, permissions, and shifts
Fully control what data is available to your staff. Keep sensitive information inaccessible, and set up special permissions for your management team. Also, set up shifts for your employees and have them easily check in or out. Manage each role of your staff to minimize confusion and increase productivity within your team.
Receive feedback from customers
Get to know your customers and their needs. Set up personalized questionnaires, polls, or surveys directly on the POS display, or via email. You can use feedback from your customers to improve your business by offering special promotions, optimizing your inventory, and making necessary changes to your day-to-day operations.
Enable customer engagement marketing
No need to spend big bucks on marketing to make a difference. You can promote products that are most likely to be purchased based on historical sales data, in addition to feedback from customers. Develop strategies and execute them in an engaging and efficient manner. By providing your customers a way to engage with your business, it will in turn better help cater to their needs, and thus increasing sales.
Inventory & order management – enter, categorize and track
One of the biggest benefits of a POS system is its simple and accurate inventory management functionalities. Enter and categorize each product, and track its life on shelf. Be notified of low stock levels, or upcoming product expiration dates. Easily manage orders for your restaurant, and have full control of seating, tabs, and bar. Take full control of your business and have access to all information at your fingertips.
Free POS for Retail
Your retail business can benefit greatly from a POS system that's optimized for your specific needs. Our systems are curated and customized specifically for the following retail businesses:
Liquor stores / wineries

Convenience stores

Grocery stores

Supermarkets

Clothing & fashion

Sneaker/shoe stores

Cosmetics & beauty stores

Electronics stores

And other general retail businesses
With the retail industry likely to continue to grow, it's important for retailers to leverage technology and data to increase sales, effectively market, and improve customer service & operations. More than ever, it is data that should influence your business. Knowing who your customers are, where their interests lie, and their shopping habits play a big role in sales and customer retention.
Gathering accurate data, and actually presenting it in a meaningful format is not feasible without a point of sale system. Realizing the changes in the market and executing customized strategies based on sales trends and forecasts is critical for a successful retail business.
Our POS solution is curated, customized, and optimized with this in mind. We provide the tools for a business owner to truly realize their market, gain insights on customers & their trends, and the platform to execute the necessary adjustments for stronger sales, and customer loyalty.

Free POS for Restaurant, Bar, and Quick Service
Empower and encourage your servers to serve efficiently and turn more tables. Drive repeat business by making use of data from previous orders and offering promotions & discounts for loyal customers. Easily add items into the system and seamlessly send the order to the kitchen for preparation in a matter of seconds. Easily manage tables through an intuitive visual interface built for speed and accuracy.
As you can see, a generic retail POS system does not make sense for your restaurant business as they're not built with the above features in mind. Restaurants have different needs, and their POS system should be built with that in mind. Having such information as what your patron may be allergic to is far more important for a restaurant, and such information should be easily entered in, and equally be easily seen by the kitchen staff.
Our restaurant POS solution is fully capable of handling all necessary day-to-day restaurant activities with accurate order management, seamless table functionality, and flexible payment processing.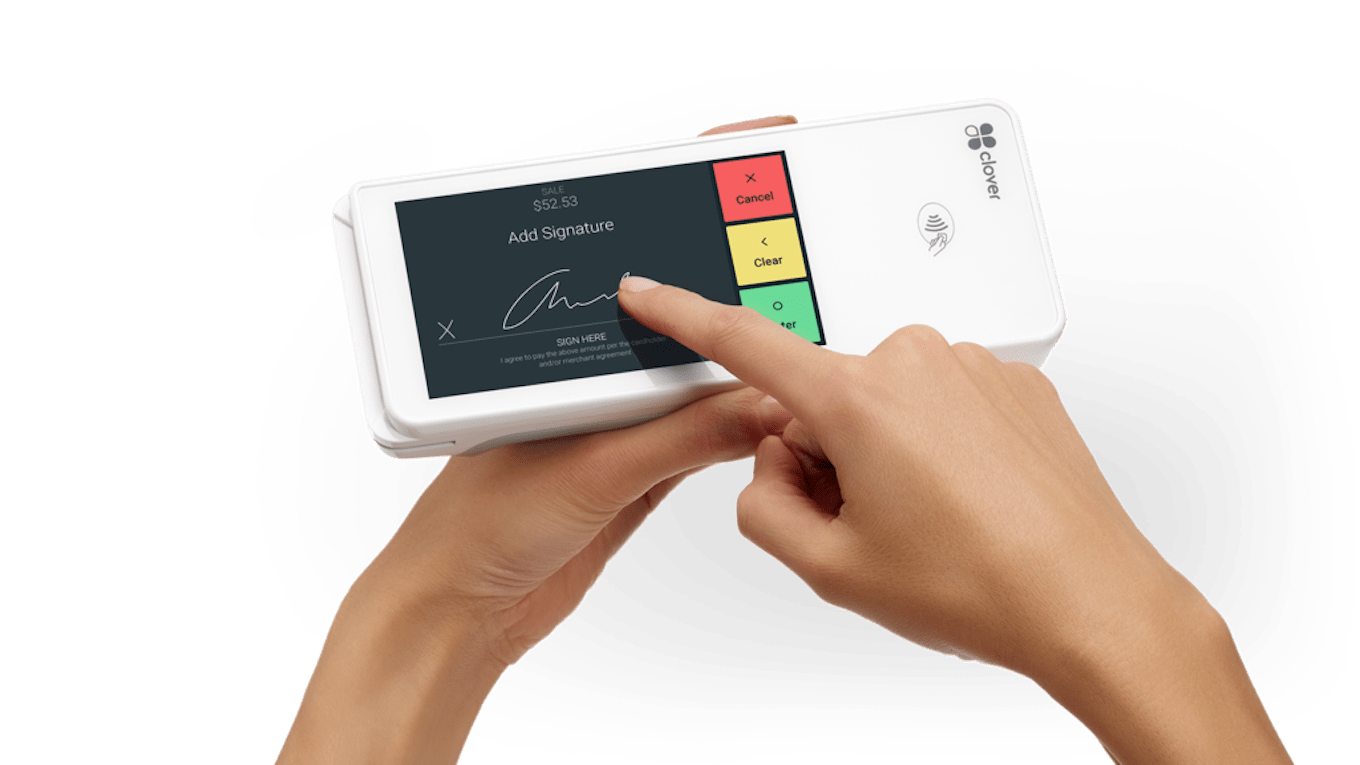 Free POS for Pizza Restaurants
Seamlessly manage your pizza restaurant with our POS system specially optimized for your business. Easily enter in menu items using simple yet intuitive menu management system. Use customized modifiers for all of your different pizza toppings with the ability to assign them to the entire or partial pie.
Sporting events are a big deal for pizzerias, and having a competent delivery management system in place helps you cater to your delivery or take-out orders with ease. Manage your delivery orders with comprehensive order tracking, and set up special promotions to keep your customers coming back.
Focus on customer satisfaction and engagement by offering membership discounts, coupons, and a point-based loyalty system. Easily manage each of these features and set up offers such as "Get a FREE plain pie with 10,000 points" with each offer automatically being recognized in the POS system for an error-free experience.
Find out how our free point of sale system can help you manage and grow your pizza restaurant.

Free POS for Salons
Your salon business can benefit from a POS system that's optimized for your salon specific needs. Our systems are curated and customized specifically for the following health & beauty businesses:
Hair Salons

Nail Salons

Tanning Salons

Spas

Barber Shops

Pet Grooming

Tattoo Parlors

Gyms
Easily manage your booking directly from your POS system and give your customers the flexibility of making a reservation online. No need to keep records on paper or a spreadsheet. Have all your bookings accurately stored within the system so there are no overlaps in scheduling and provide your staff the necessary tools to easily manage their appointments and workload. You can even make use of email & text message reminders so your customers are notified of upcoming appointments, in turn minimizing on wasted time.
Many businesses in the health & beauty industry rely on a personal relationship with their clients. Customers usually have a preferred stylist or staff whom they visit on the regular, and providing a system that makes this seamless is key to a successful salon business. Offering your customers an intuitive way to book appointments anytime and anywhere with their preferred stylist, while giving your staff the necessary tools to manage their schedules creates an environment that benefits both your customers and your team.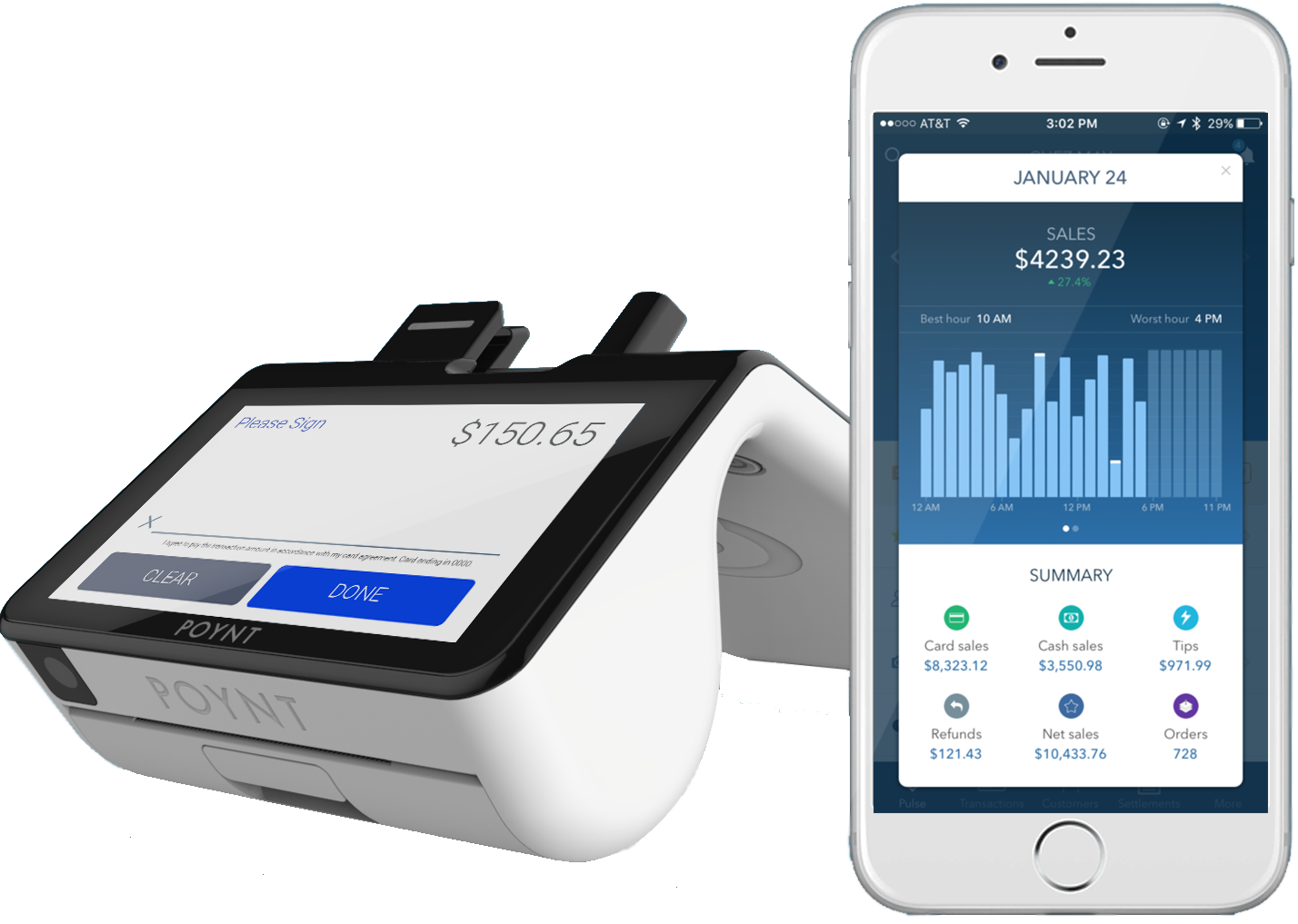 Poynt Terminal
The First Terminal You'll Love, the Last Terminal You'll Need
Our free POS solution comes with the sleek Poynt Smart Terminal. It's an all-in-one device that does more than process payments. Monitor your transactions anytime, anywhere with the Poynt HQ mobile app.
With 3G capabilities, when you're on the go, so is Poynt. Take your business anywhere, and easily capture payments on the move. It also accepts about every type of payment including Apple Pay and Google Wallet.
Poynt terminal is PCI compliant so you don't have to worry about security.


Premium Technical Support
Local On-site & Remote Support | Overnight Hardware Replacements | Upgrade Guarantee
POS.com provides industry-leading support for your ever growing business. Never worry about not getting the necessary help when you need it most. Enjoy lifetime hardware warranty and expedited hardware replacements. Take advantage of our advanced on-boarding and setup process of your new POS system. Save money with our competitive payment processing rates.
* Free point of sale system requires a minimum three (3) year premium tech support agreement and payment processing with competitive rates by POS.com. Premium tech support starts at $49.99 per month. Includes 1 POS station, 1 thermal receipt printer, and 1 Poynt payment processing terminal.
Want to learn more about our free POS solutions?
No matter your budget, POS.com is here to help you grow your business
Get in touch with a specialist
or call us toll-free at
+1 888-860-8988